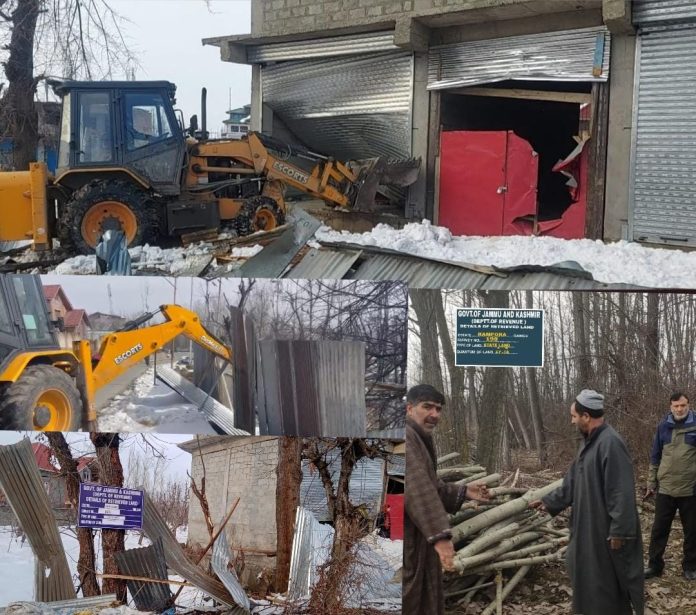 10 Kanal land worth crores retrieved from relatives of Ex.MP in Kulgam town
KULGAM: Acting tough against the land encroachers, the District Administration Kulgam in a single day today retrieved more than 400 kanals of state/ kahcharie and Roshni land during intensified  anti-encroachment drives  carried out across the district.
Illegal land measuring 10 Kanals was also retrieved from the relatives of Ex MP, with title State Land (Roshni) retrieved after a massive Eviction Drive at Kulgam Town today.
The Property having worth in Crores has been handed over to the MC, Kulgam, for further management.
Land measuring 50 Kanals under Survey No 675 recorded Sarkar in revenue records was retrieved today at estate Lammer.
On spot 40 Kanals were handed over to the Agriculture Department for Seed Multiplication Farm and 10 Kanals were handed over to the Headmaster Government High School Lammer.
93 Kanals of State land under Survey No. 01 at village Arigatnoo was retrieved from the encroachers and about 1 kanal Kahcharie land with (high commercial value) near Pahloo main market was retrieved with strenuous efforts.
44 kanals of land were retrieved at HM Guri in DH Pora.
It is worth mentioning that Kulgam district Administration has activated men and machinery on mission mode to evict the illegal occupants and retrieve the State/ Kahcharie and Roshni land in the district and today more than 400 Kanals of encroached land were retrieved and many structures raised over the encroached land were also dismantled.