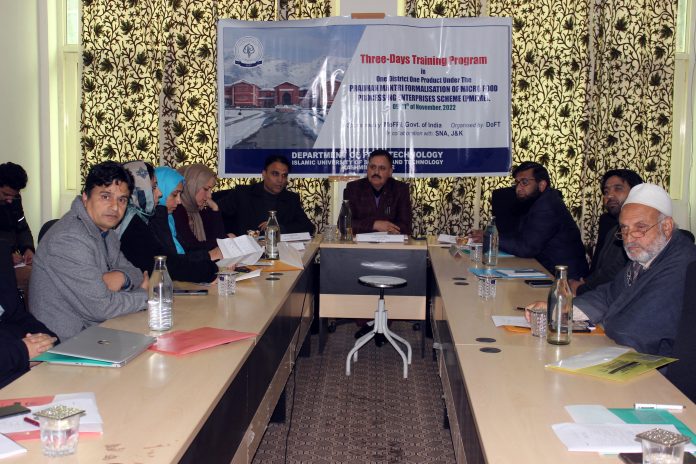 Awantipora: A three-day Capacity Building Workshop on 'One district, One product' under PMFME (Prime Minister's Formalization of Micro Food Processing Enterprises) Program and funded by Ministry of Food Processing and Industries, Govt. of India began at the Islamic University of Science and Technology today. The workshop will run from November 9-11, 2022. 
The event is being jointly organised by the Department of Food Technology IUST and J&K Department of Horticulture which is also an SNA state nodal agency for implementation of this program. The Department of Food Technology, IUST has been designated as one of the State Level Technical Institutes (SLTI) for the implementation of One District One Product under PMFME, Government of India. The workshop aimed to enhance capacities of the entrepreneur participants who are also Credit Linked Subsidy Beneficiaries. During the training, the main trust will be laid on issues like establishment of Food Processing unit, Safety Standards, Financial Management, Banking and other related areas.
During the inaugural function, Prof. Naseer Iqbal (Registrar, IUST) talked about the entrepreneurship potential of the food industry in Kashmir. He believes that the department holds the required research infrastructure and dedication to contribute in making food processing industry as one of the largest enterprises of the valley.
Dr. Munaza Mehraj, State Nodal Officer for PMFME and special guest of the event hoped that more such trainings will be conducted at IUST in future too. Talking about the relevance of such trainings, she said, "Such programs are very critical to ensure that our efforts fall in right direction".
Speaking on the inaugural function of the training, Dr. Tariq Ahmad Ganaie (Head, Department of Food Technology) said, "In its academic, research and extension programs, the department focus to offer the solutions to the contemporary food related problems of the society and enhance the capacities of the people associated with the food industry in Kashmir".
Welcoming the participants, Dr. Thameed Aijaz (Assistant Professor, Department of Food Technology) said, "Kashmir has a huge entrepreneurship scope in the field of food technology and processing, and we collectively has to strengthen it further".
Dr. Farhana Allaie (Senior Assistant Professor, Department of Food Technology) presented the vote of thanks.